Mayank Mudnaney
The quaint alleys of Bandra and chalky art deco facades of Ballard Estate form the perfect canvas to spotlight a motley crew of creatives on a sleepy Sunday afternoon. Dressed in Bhaane's Spring/Summer 2022 collection – a synthesis of washed Madras checks, ditsy shift dresses and nostalgic graphics, an ode to the buzzing city and its intriguing creatures.
Mumbai, 2022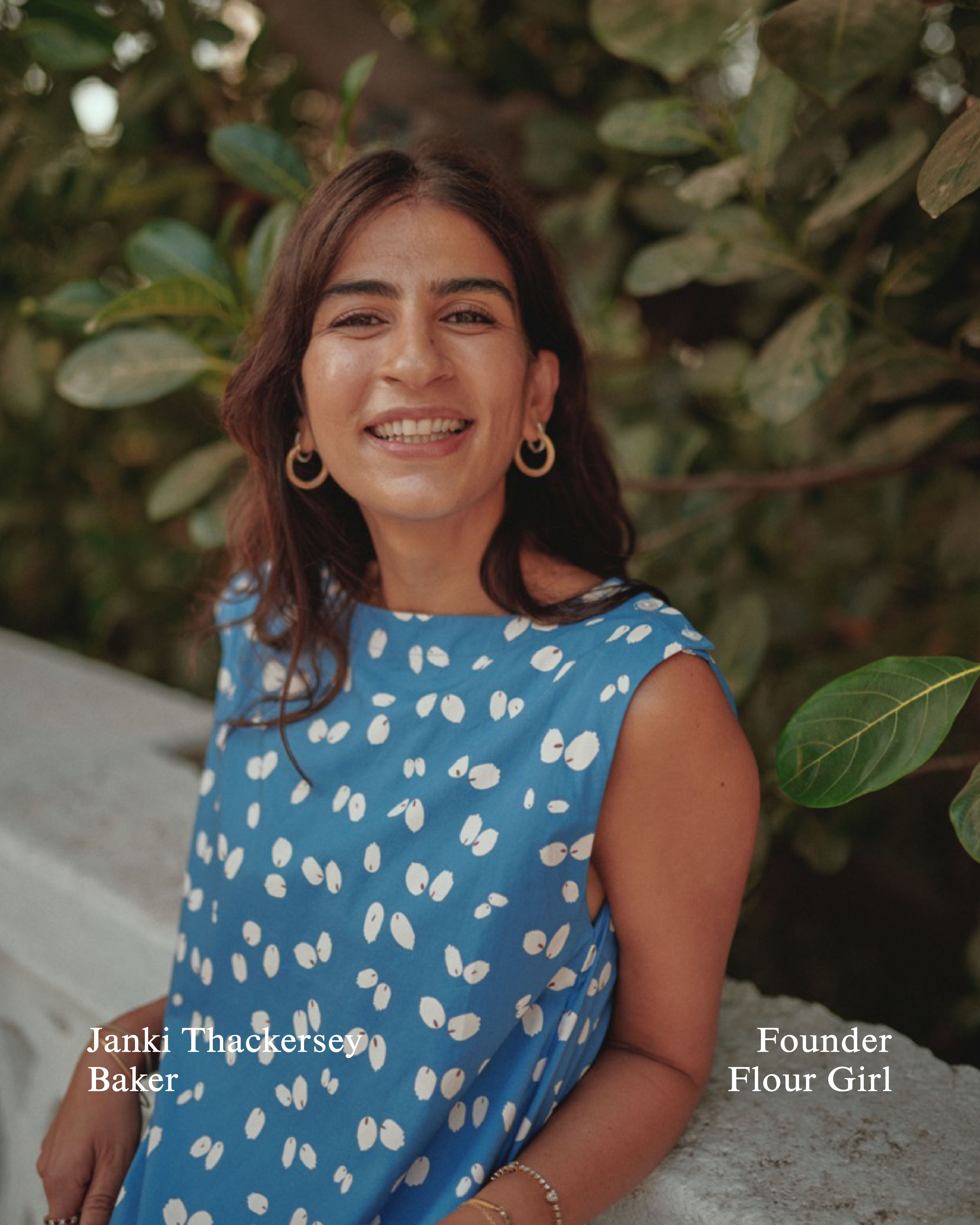 An underrated ingredient for desserts?
Salt makes everything taste better.
What's the most therapeutic moment of our process?
I love the tactile sensation of working with my hands and being immersed in the ingredients. I'm easily distracted by my phone - baking keeps me present.
The ideal treat for summers in Bombay?
I love ice cream, I have an ice cream tattoo. I make sourdough ice cream with caramelized breadcrumbs, perfect for hot days.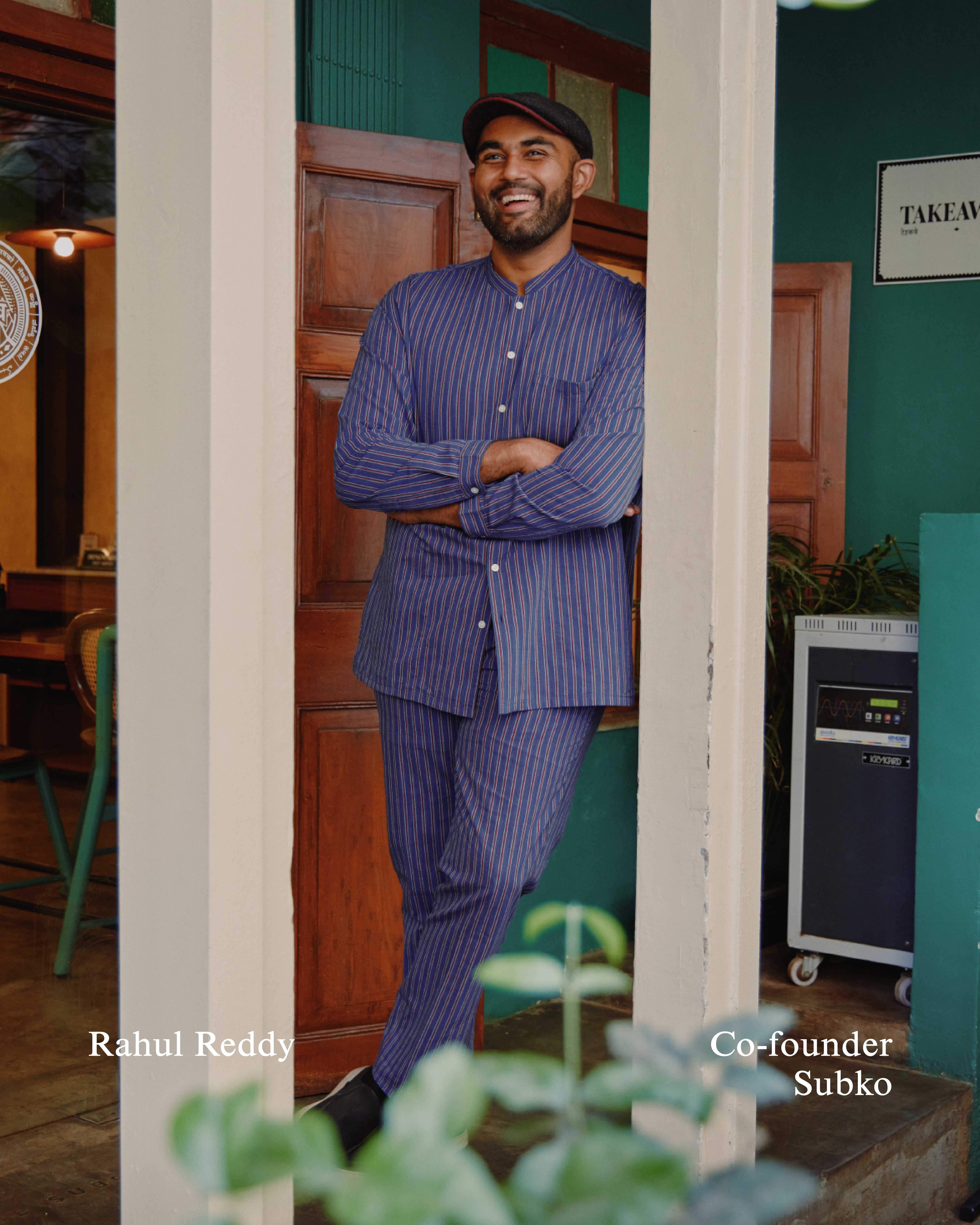 Describe your best coffee-drinking experience to date.
Drinking Ninety Plus coffee which is a green bean coffee sourcing initiative in Panama.
An accessory that you bequeathed and continue to wear today?
My flat-cap/ golfer's hat/ weird French hat thingee. It's something I seem to be associated with.
The best conversation that you overheard at Subko?
Somebody was trying to find their Rishta at the Subko garden in Mary Lodge.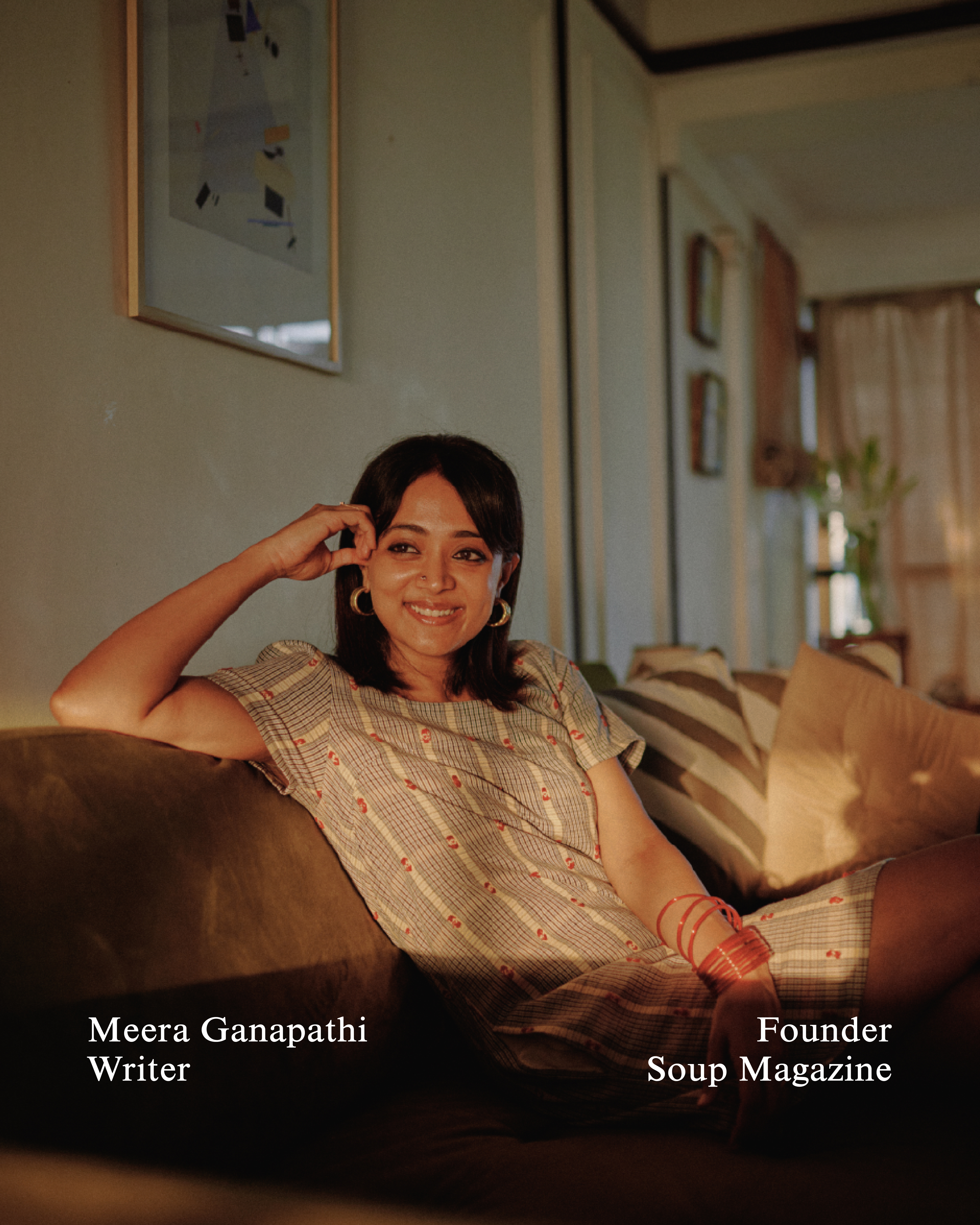 What made you first passionate about storytelling?
I have always been a reader and a notorious daydreamer. Sometimes these two habits connect and a story emerges. Sometimes it makes you forget to switch off the geyser – that can suck.
How do you think social media has impacted the way we create literature?
Social Media has introduced us to new perspectives and voices that didn't have a platform before. In this democratic space, musty, stuck-up ideas about what literature is and isn't do not matter, we are all too busy reading anything from Cat People to Deuxmoi.
Your favourite reading spot in the city?
The Village Shop in Bandra.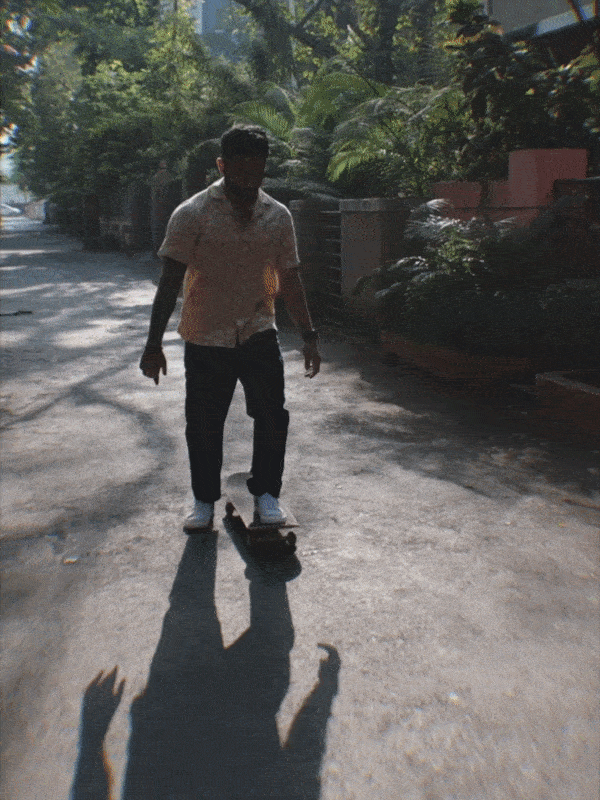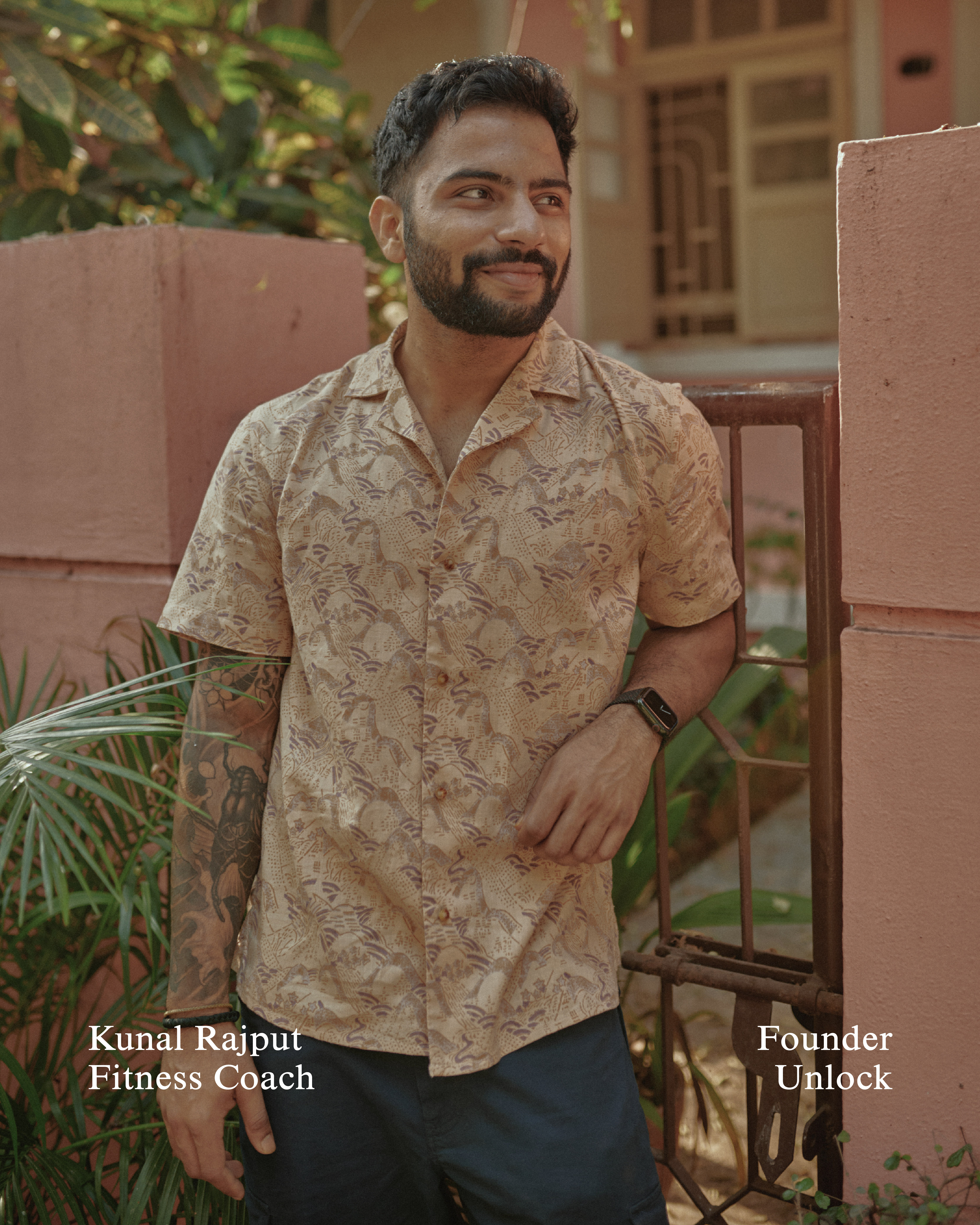 What's the last piece of clothing you borrowed from somebody?
My Girlfriend's Comme des Garçons shirt. I've conveniently misplaced it.
What's your jam during leg day?
80s Bollywood music. I love the remixes by MadStarBase and Malfnktion, my current favourite is Rangeela Re. Besides that it's A R Rehman and Remo D'Souza on loop.
If you had to make a bulletin for gym bros what would it say?
Your quads are too small for your skinny jeans.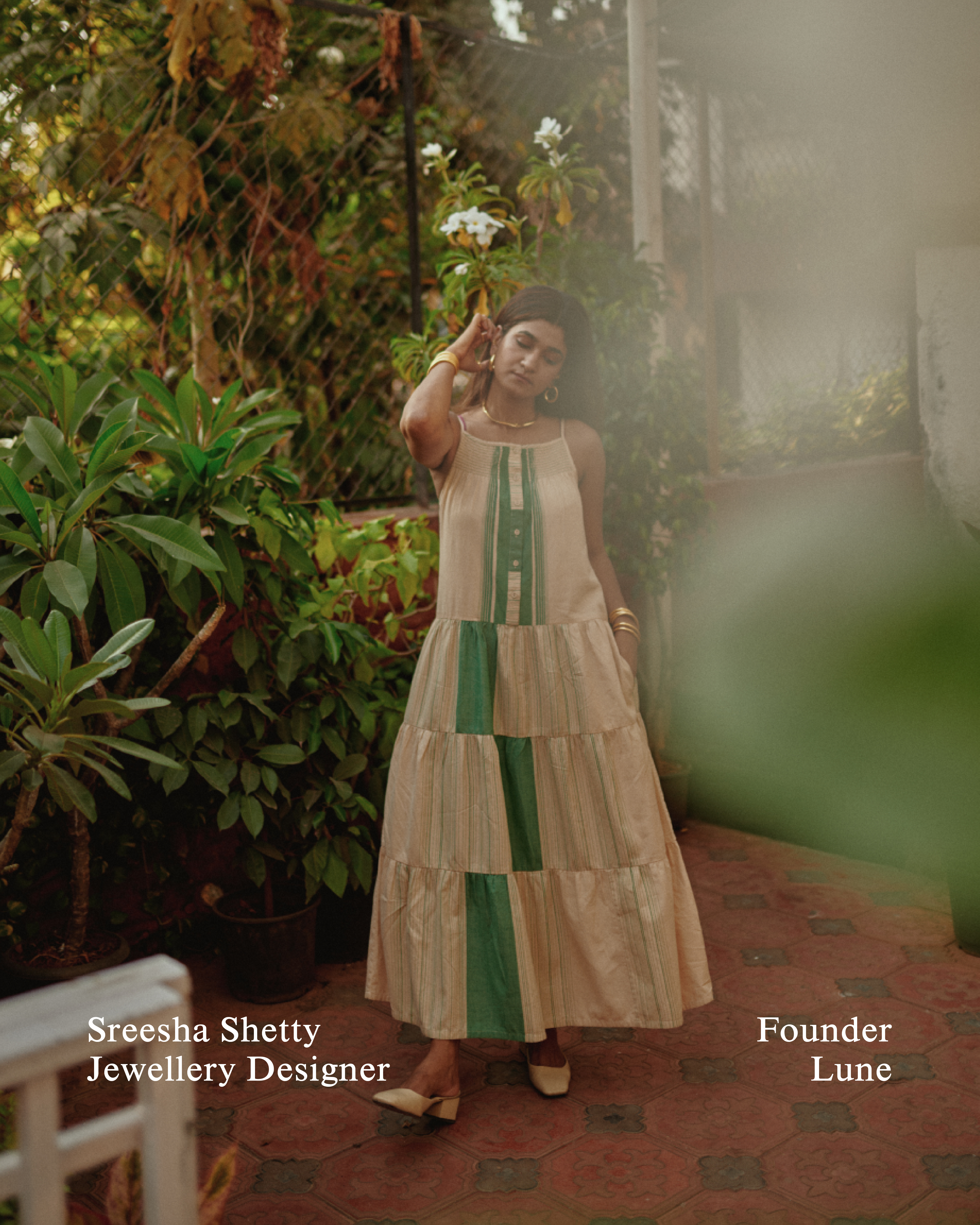 A piece of jewellery you bequeathed and continue to wear today?
My grandmother's kissing peacock necklace with rubies and pearls. I never met her but my mother tells me she was a dreamer like me.
What's on your desk?
Currently a Bili Hu coffee mug and Bialetti French press, L'occitane hand cream and a Muji sketch book.
Tell us a fun fact about Chimbai.
All the local businesses support each other. We share biscuits, they keep our parcels, help us with random repairs, we talk about the sea and how good the catch of the day was. The older women tell us about how they survived the Spanish flu and we exchange stories about jewellery, love and loss.
Who's posters did you have up on your wall as a teenager?
I would stick up CD covers and inlays from the likes of Jay Z, Linkin Park, Eminem, Timbo, Missy Eliot and Fort Minor.
What song are you singing in the shower?
All cried out by Fink.
What does it take to truly engage people as an artist?
As an artist, echoing back into the world what inspires you, could result in an interesting foundation to truly engage people with your art & further cultivate a sense of community around the core values of the same.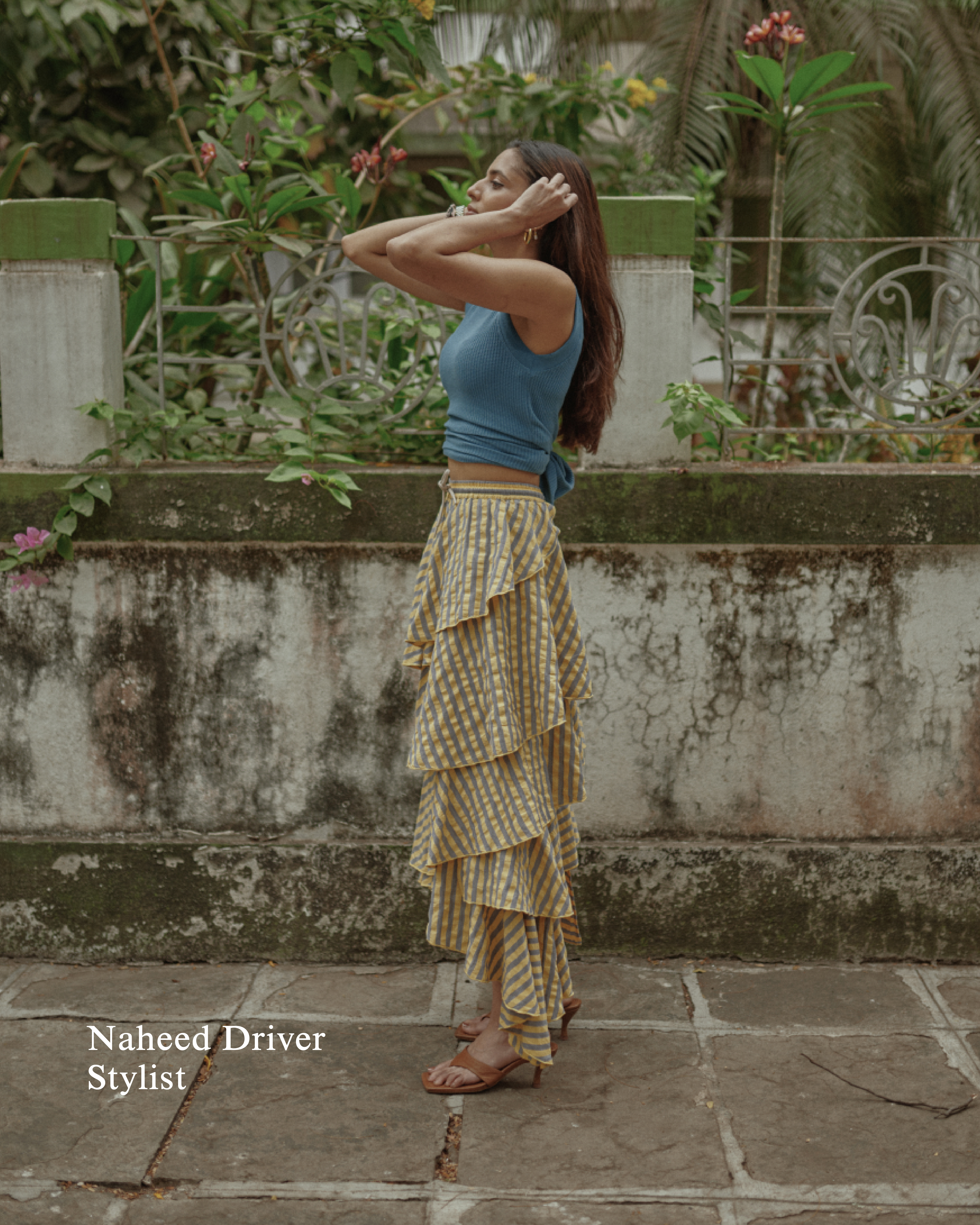 The best piece of career advice you've ever received?
In the words of my friend Priyanka Parkash – "Arey Naheed, your job isn't saving lives so stop taking it so seriously and just go with the flow, it'll all come together."
Where does one go to eat an authentic Parsi meal in Bombay?
At a Navjote, a wedding, make a Parsi friend. Or, hit up Godiwalla Caterers.
What do you dislike the most about fashion?
Marketing makes fashion seem seasonal, when in fact it's cyclical.What's now will come back again, and again.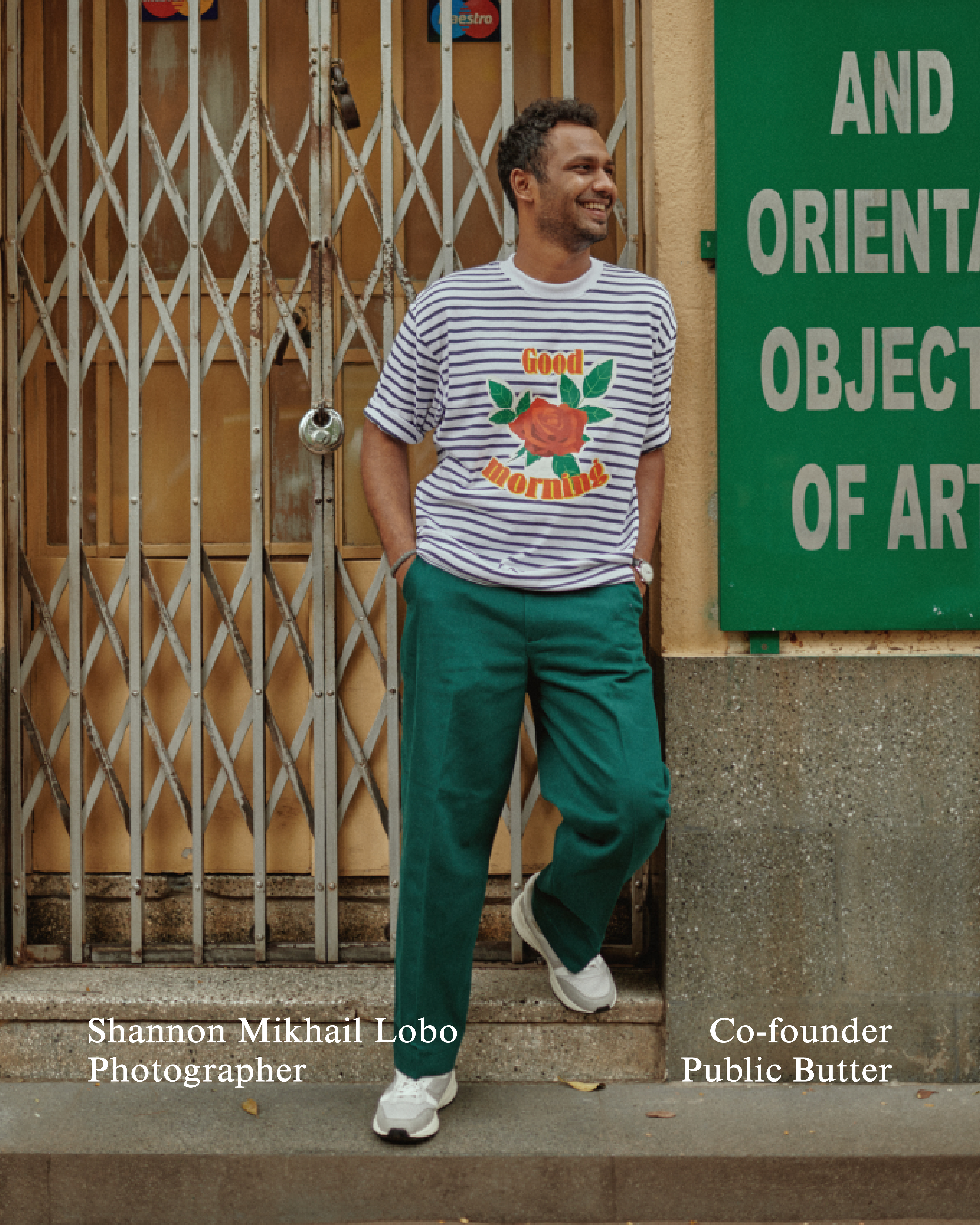 What's a piece of clothing you've owned since you were a teenager?
A colour-blocked windcheater that was handed down from older cousins.
A mundane object you love capturing?
Entrances. Doors, shafts of light through windows.
When you first became infatuated with photography, whose work did you study?
Platon – There's something about his composition, it's very graphic. The perspective he shoots his subjects from really draws you in.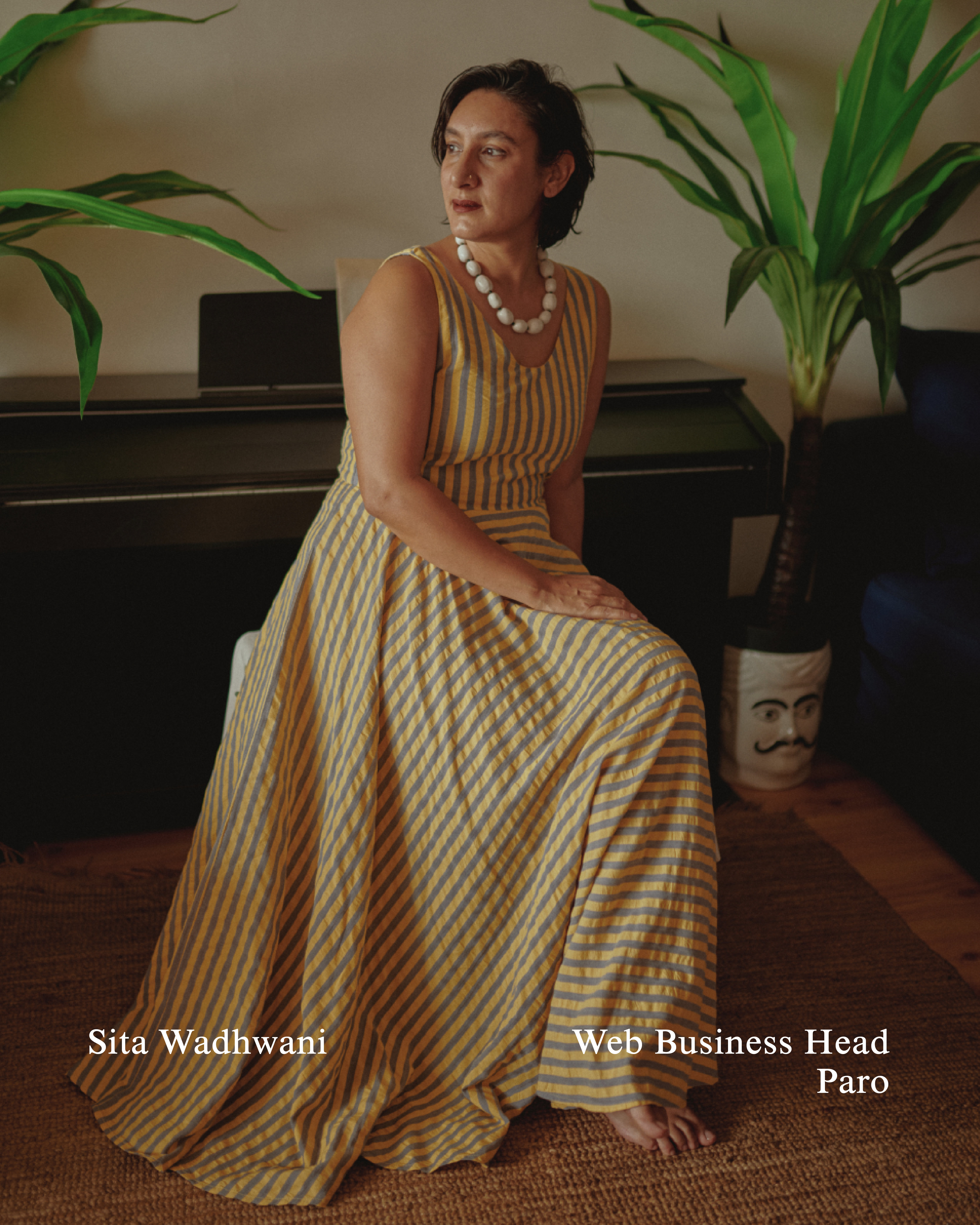 What's a vintage find you continue to wear today?
My father worked in the fashion business in Europe in the 1980s and 90s when Prada and Kenzo were considered upcoming designers. All my vintage 'finds' were found in my mother's wardrobe along with a lace sari from the 70s which I received in my trousseau.
What's the first fashion trend that got you excited?
Utilitarianism. Fashion is art and I prefer wearing art that I can function in. So I tend to gravitate towards Indian drapes, sculptural Japanese silhouettes and Belgian designers.
What does a Sunday afternoon rediscovering the city look like?
Crossing the north/south divide to engage with South Mumbai's art community or visiting friends & family in their art deco neighbourhoods and charming old-world members clubs. Restaurants Kala Ghoda Cafe & The Table completely exemplify the South Mumbai experience for me.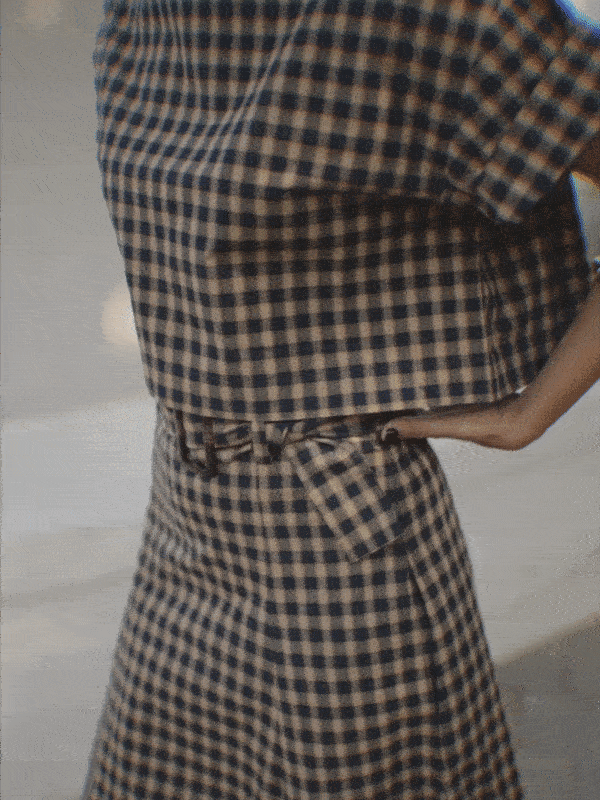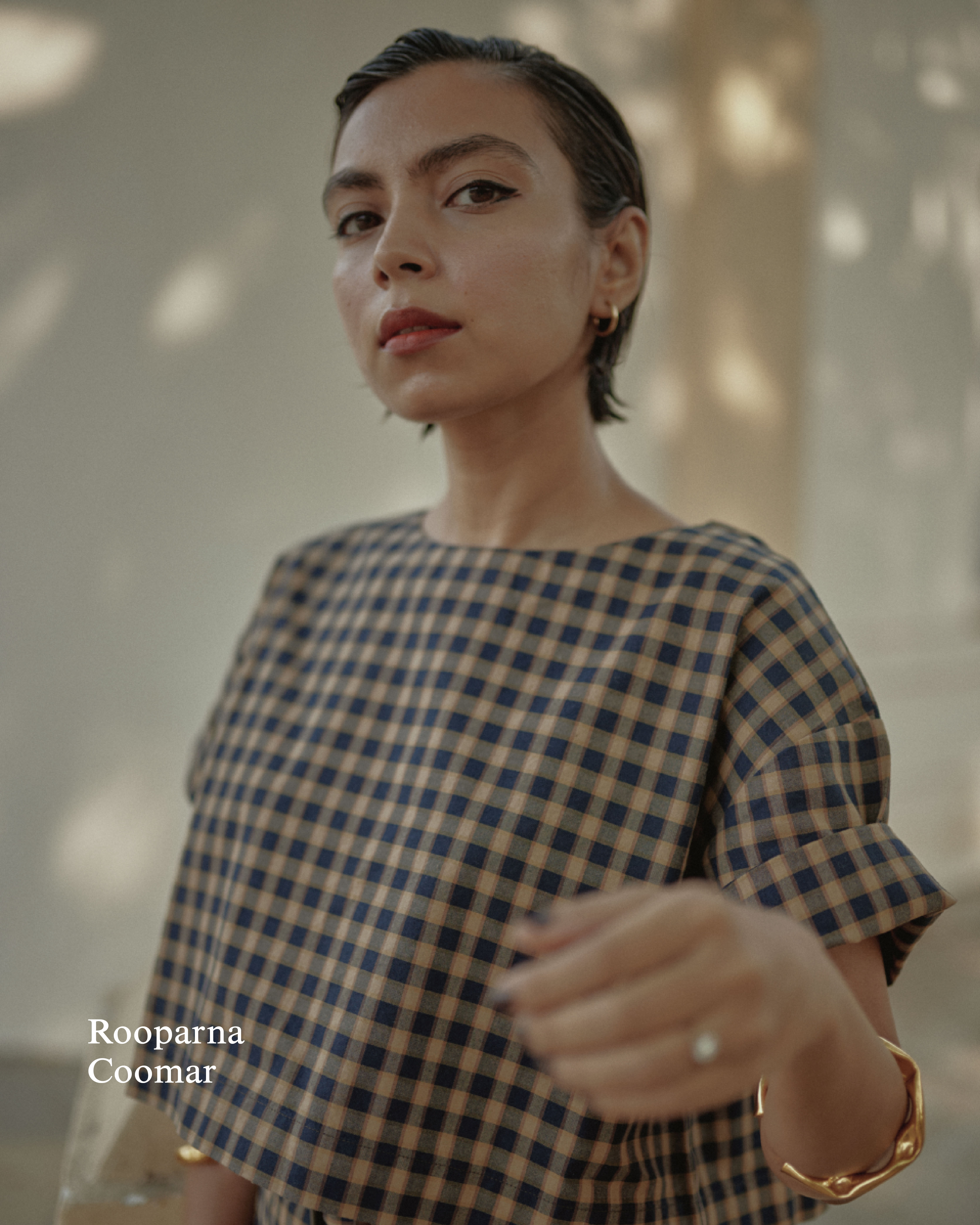 A thrift find you continue to wear today?
A purple and white polka dotted Yukata I bought from a Kyoto train station, it works with office as well as casual wear and is perfect for Bombay's 10 days of winter.
What has been the best outcome of slowing down?
To be able to find time to think about what or who actually matters to me the most. To be able to do things I always wanted to but couldn't make time for it.
What are your favourite memories of summer, now and growing up?
10 rupee orange ice pops after school. Standing in front of noisy air coolers with arms wide open during the hot summers of Mathura in Uttar Pradesh. Today, it's replete with summer swims, cold showers, mango chia seed pudding and lots of ice cream with Nara.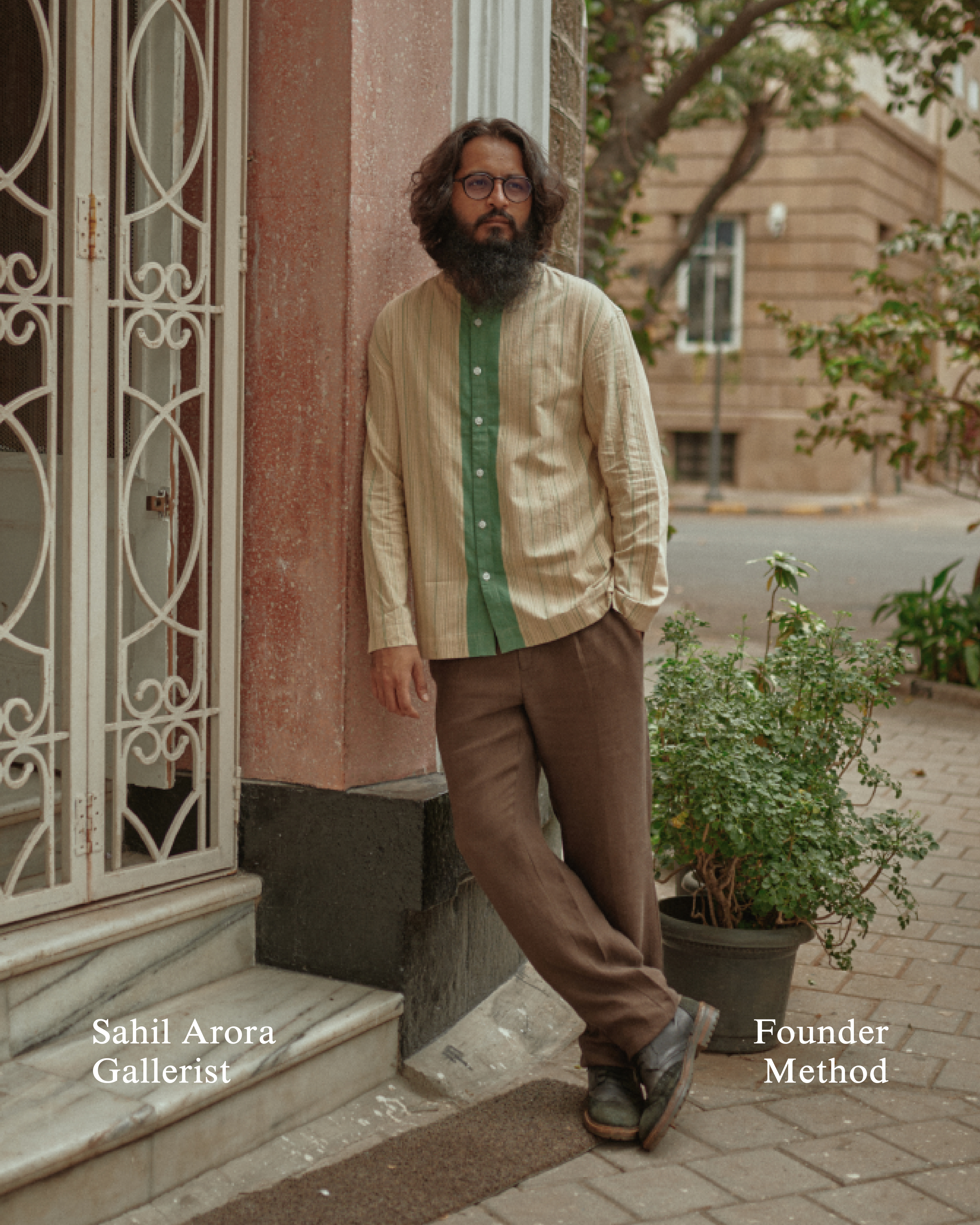 Your advice to first-time art collectors?
Buy something you like without thinking of market trends or what the appreciation potential might be. You're going to look at it everyday, so make sure it speaks to you personally.
Three artists on your radar right now?
We have a show with Yaazd Contractor coming up that I'm super excited about. Light sculptures aren't popular in India at the moment and it's interesting to see how light affects your own moods and emotions and also that of the spaces in which they exist. I'm also enjoying the generative work by Kim Asendorf. Maya Vara's new show is absolutely stunning. I think she's found an effortless acceptance to herself, her emotions and her roots that will translate into great things in the future.
What's the story behind the name 'Method'?
I like the word. It's short, easy to say and everyone knows it but it's a little abstract to define. I also like the irony behind it since I'm a very unstructured person.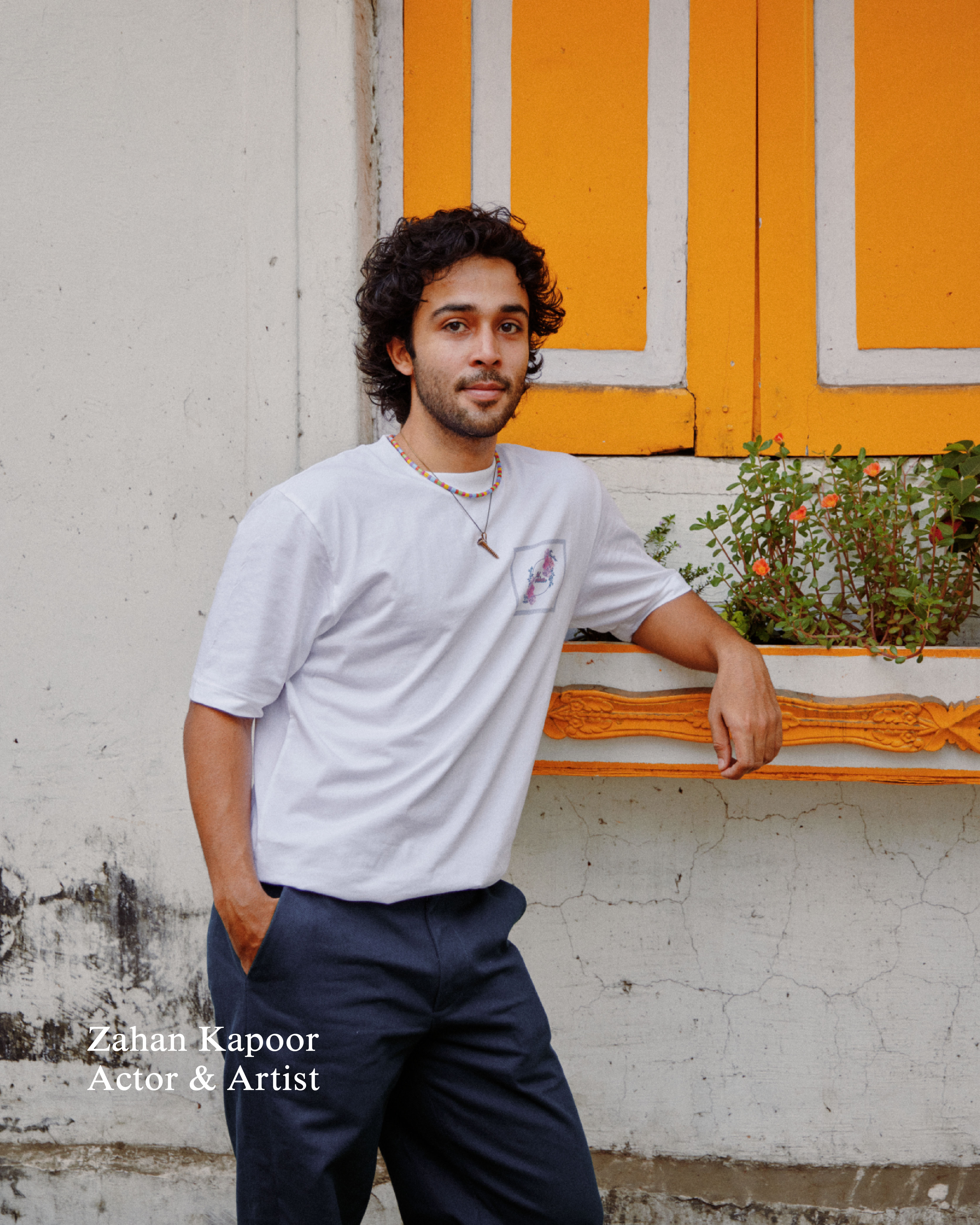 What are you nerding out on currently?
Indian mythology, I'm fascinated by the intricate stories that exist in our country. I want to explore how certain archetypes, frameworks and concepts still apply to a contemporary context.
You love sketching the female form, what's your art about?
I used to doodle as a child – cartoons and caricatures.Now I've rediscovered anatomy and I want to take it into the fine art space through a digital medium.
In a world saturated with content, what is it that you want to create?
Things that feel compelling – the human condition is endlessly fascinating, as are relationships. I hope to give form and shape to these resources and communicate it to an audience.